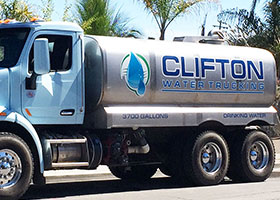 Clifton Water Trucking understands the importance of having a fresh supply of clean drinking water that is reliable. It is our top priority to ensure that the water we deliver to our customers is completely safe and clean for human consumption.
What is Potable?
Potable means food-grade. All of our potable trucks are stainless steel, which is extremely clean and safe for consumption. As a professional water supplier, we are proud to offer our customers with superior water delivery. Whether you need swimming pool water delivery, home water delivery, or spring water delivery, our potable trucks are perfect for securely transporting clean water.
The Best Around
If you are looking for a water delivery service that has a wide range of expertise and is highly experienced in water tanks and pump repair or cleaning, we are the perfect water company for you. Our potable water trucks are used for any type of water delivery that requires human consumption, and are ideal for swimming pools as well. All of our water is transferred through completely stainless steel trucks and pumps to maintain food grade water.
When your home or business needs clean water for drinking, or for your pool, our potable trucks are the perfect solution. We guarantee that with our secure, bulk water delivery service, you will feel comfortable and at peace with safe and clean water supply. For more information regarding our trucks, water tanks, or water services, please contact us today!